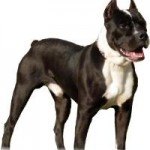 When I'm out with my Boston terrier a lot of people ask me if she's a Boston Bull. I wasn't familiar with Boston bull's, so I decided to do a little research …
Turns out, Boston Terriers were originally bred from the Boston Bull breed.
They are generally bigger than today's Boston terrier. They weigh anywhere from 25 to 45 pounds and come in a variety of colors. Boston terriers are much smaller (15-25 pounds) and they only come in 3 color combinations:
Brindle/white
Black/white
Seal/white
As Boston terriers became more refined they started to take on a new look. Breeders wanted to make them smaller, and started paying attention to body proportions and markings.
Below Are Some Pictures Of Boston Bulldogs:
You can check out pictures of Boston terriers by looking at the 'Pictures' page.
Have any questions or comments? Leave them below!
Comments
comments