So the much anticipated Eukanuba challenge has begun! Last Friday afternoon I came home from work to find 2 big bags of Eukanuba Small Breed Adult formula at the front door. Lucy was certainly excited about it … she sniffed out the box before I even got it open!
Here are some pictures of her when she first laid eyes on the Eukanuba! I even took a short clip of her digging into it.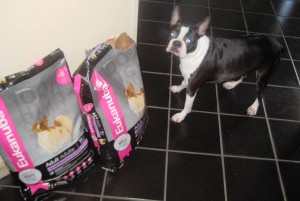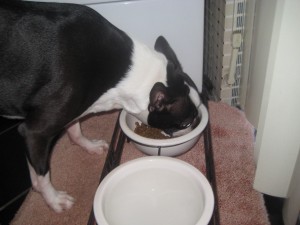 So what is the Eukanuba challenge about anyways?
For the next 28 days, I plan on feeding my Boston Terrier, Lucy, nothing but Eukanuba. I'll post updates on any changes I see in her physical health and personality, and how she likes the food!
This is what Eukanuba has to say about the Small Breed Adult Formula:
"Eukanuba Small Breed Adult is packed with over 12% more fat for more energy in a small nutrient-dense kibble – ideal for their higher metabolism and smaller stomach. Since small breeds can live up to an average of 50% longer than larger breeds, our Small Breed Food includes selected antioxidants that help support their longer life expectancy. Eukanuba Small Breed Adult is formulated with the exclusive Eukanuba Dental Defense system, a special kibble coating that helps reduce tartar buildup. FOS, a natural Prebiotic, is included to support your dog's strong defenses from within the digestive tract."
Reasons to  Love Eukanuba!
Eukanuba uses chicken as their number one ingredient to build and maintain lean muscles, and they never use filler ingredients.
Here's a breakdown of the clinically proven ingredients in six key performance areas:
1)       STRONG DEFENSES: Clinically Proven FOS promotes strong defenses. Almost 70% of your dog's immune system is found in the digestive tract.
2)       SKIN AND COAT: Contains OmegaCoat® – Guaranteed optimal levels of Omega 6 and 3 fatty acids are clinically proven to promote skin and coat health.
3)       LEAN MUSCLES: Animal based proteins are clinically proven to promote strong, lean muscles.
4)       OPTIMAL DIGESTION: Beet pulp is clinically proven to promote digestive health. Natural fiber blend to promote nutrient absorption.
5)       STRONG BONES: Contains calcium – clinically proven to promote strong bones.
6)       DENTADEFENSE®: DentaDefense® is clinically proven to reduce tartar build-up by up to 55% in 28 days.
I can't wait to see how Lucy does on the new food. Stay tuned for more updates. 🙂
Comments
comments