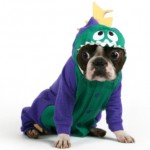 Halloween is right around the corner folks. Have you thought about putting your pup in a costume? Need Halloween costume ideas?
Halloween is a fun holiday for you and your pet, as long as you do a little planning and preparation!
Some dogs look totally humiliated (cute as can be!) when they're dressed up …and they just won't stand for it.
But you can make your Boston like the idea of wearing a costume with a few treats and a few minutes of practice every day.
You should start practicing now though … it may take your Boston Terrier a few weeks to warm up to the idea of wearing a Halloween costume. Put your dog in his/her costume every day for a few minutes each time and offer rewards and treats when he's wearing his costume.
Pretty soon, he'll be excited at the prospect of wearing his costume!
Make The Costume Match The Personality!
Aim to get a costume for your Boston Terrier that matches his personality. Here are some ideas for a Halloween costume based on personality:
• Pirate
• Cheerleader
• Surfer
• Cat
• Devil
• Clown
• Dinosaur
• Pig
• Alligator
• Prince or Princess
• Mommy and Me
Where can you find these costumes? Just about anywhere! Most pet supply stores and department stores carry them. You can find dog Halloween costumes as places like Petco, PetSmart, Target, and Wal-Mart.
Make Sure To Get A Costume That Fits!
Alrighty, you've got your costume idea in your head, you know where you're going to buy the costume, but when you get to the store you have no idea if it will fit.
If your dog's costume doesn't fit correctly, your dog is probably going to be unhappy with it … and he'll try to wiggle and squirm out of it− or even chew it up!
That's why you should measure your Boston Terrier before you go out shopping. Here are the main things you need to consider:
• Measure your Boston's neck – Measure your dog's neck where his collar would naturally sit.
• Measure your Boston's body length – Measure from the base of the neck — a bit below where the collar sits — to the base of his tail.
• Measure your Boston's chest girth – Measure around your dog's torso- at the largest point, usually at the base of the rib cage.
Write down your dog's measurements and take them with you. You may also want to bring a tape measure to the store, as some Halloween costumes don't have the dimensions listed on the packaging.
Happy Halloween!
Good luck! If you already know what you're going to dress your Boston in for Halloween, leave a comment and let me know what it is! And if you have any pictures from previous years email them to me so I can post them on the pictures page!
By the way, make sure your dog doesn't get into the Halloween candy! Candy will make your Boston Terrier sick … especially chocolate!
Comments
comments