What makes a Boston Terrier the happiest dog in the world – TREATS!
And more specifically: NUDGES CHICKEN JERKY TREATS!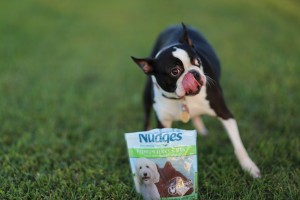 Since I'm a dog blogger, I was asked to try out Nudges jerky treats … and give my honest feedback of the product.
I'll admit that I hadn't heard of the treats before I was approached to do the review — so naturally I wanted to do more research before I let my Lucy try them. 🙂
After learning that Nudges are made in the USA with real chicken, 11 essential vitamins, and they don't have any artificial flavors or fillers … my concerns were put at ease and I decided to let Lucy give them a try.
The chicken jerky treats made in Independence, IA, with quality, safety and pride, where every batch is tested to ensure they are safe.
I took Lucy down to the local dog park where we tried the treats for the very first time! And let's just say she LOVED them. When I opened the package, she was all over me. She could smell them right away and was barking and just dying to try them.
Here's a quick video of her trying out the product!
The only thing she had a little trouble with was chewing them, they're rather large. If you have a smaller dog so keep that in mind when buying! The package advises to tear the treats in half for smaller dogs and includes a feeding chart with recommendations on how much to give your dog.
Nudges are available at Wal-Mart and Kroger stores nationwide. If you'd like to give your Boston terrier a new healthy treat, I urge you to give them a try!
And you can check them out on Facebook here.
Has your dog ever tried Nudges? What's your experience with them? Let me know in the comments!
I have written this post on behalf of BlogPaws Pet Blogger Network for Nudges. I am being compensated for helping spread the word about Nudges Wholesome Dog Treats , but Boston Terrier Secrets only shares information we feel is relevant to our readers.
Comments
comments