How to Start a Pet Blog: a 3-step quick-start quide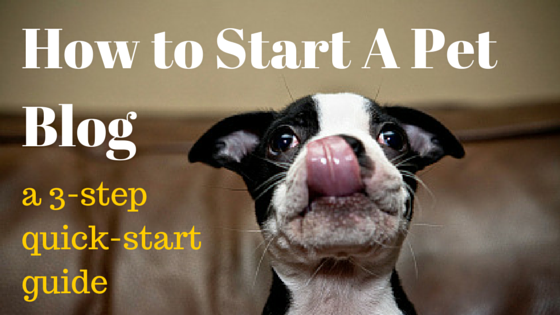 Let me guess: You love your pet! And you probably also love reading about pets or watching funny pet videos on YouTube.
You're in good company.
I love my Lucy oh so much – I still call her my first-born. And a few years ago I decided to start a "dog blog" about her breed Boston Terriers.
It's been a great hobby and it's so fun to meet other Boston Terrier enthusiasts and research the breed.
So if you want to star a pet-related blog yourself– I'm here to help!
Don't wait. Today is your day to start a pet blog!
Put things on hold for the next 15 minutes and follow the three steps below. You'll be up and running with your own pet blog before you know it.
Let's go!
3 STEPS TO HAVING YOUR VERY OWN PET BLOG:
This is the fun part!
What do you want the name of your site to be? Mine is obviously bostonterriersecrets.com.
I try to make all my blog posts specifically related to Boston Terriers. I think it's helpful to focus on a niche. So instead of just saying "I'm going to blog about cats and dogs" you decide – I'm going to write about "all types of terriers" or "the most popular cat videos on the internet" or something like that.
Once you decide what you want to write about, start brainstorming a few domains that would work for your topic.
Then head over to Bluehost and see if you your domain name is available by entering it in the box that looks like this: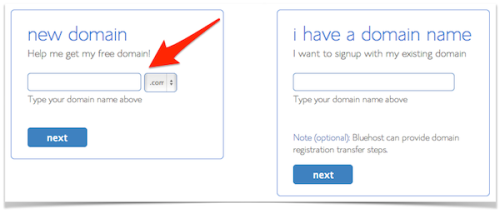 I usually recommend newbies begin with the Starter Plan, which is paid in one lump sum instead of monthly, but it'll save you quite a bit of cash.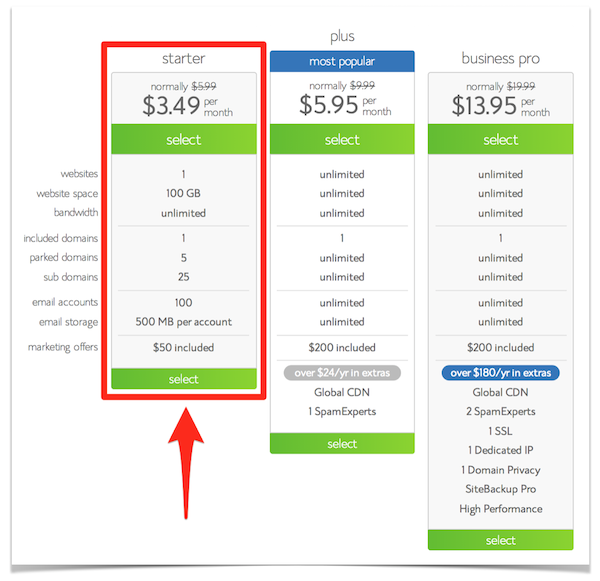 Once you have your domain name picked out, you'll need to find a host.
Hosting is like renting a place on the internet for your blog to "live." I use Bluehost as my provider. If you decide to host with them as well you'll also get a free domain name! Score!
You know I'm all about those deals.
Below is a screenshot of what I use for package information settings.
The Domain Whois Privacy shields your personal address and phone number from being displayed to the public.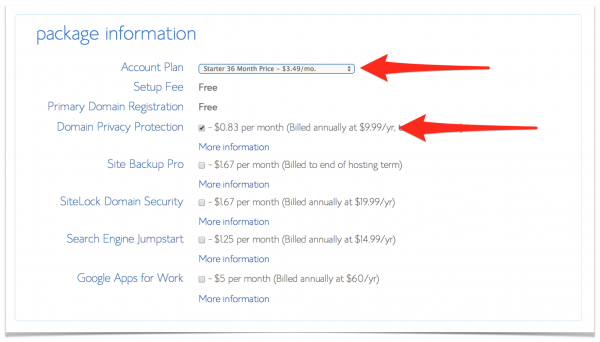 2) INSTALLING WORDPRESS
The other great thing about Bluehost is that once you complete your registration, they make it SUPER EASY to install WordPress (the best blogging software out there – and it's also FREE!).
Here's what you do:
Once you're logged in to Bluehost, find the Website Builders section. Click on the WordPress logo.

On the next page click the "Install" button in the "Do it yourself FREE" section.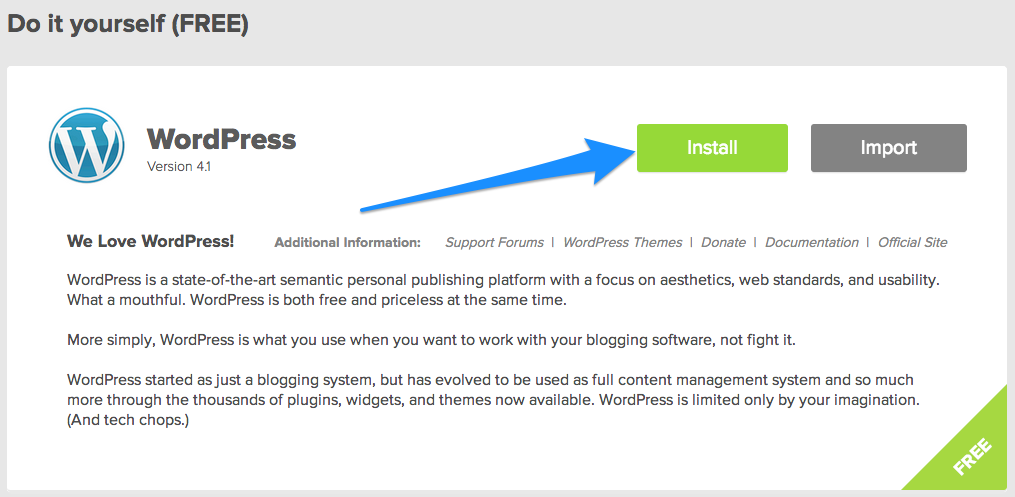 Click the "Check Domain" button.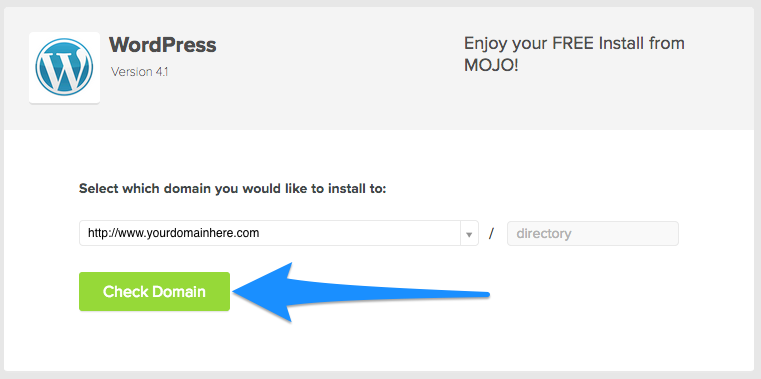 Check the terms and conditions box and then click the "Install Now" button.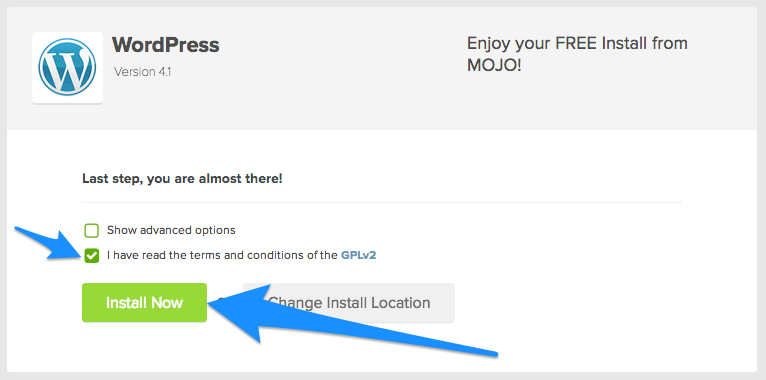 Once you get the message that says "Your install is complete!" you'll want to click on the "View Credentials" button in the top right corner. Write down your Admin URL, Username, and Password. You can change these to something more memorable later, but you'll need them for your first time logging in.
Type your Admin URL into your web browser. You'll see a login screen like the one below. Enter your Username and Password you copied down from the previous step.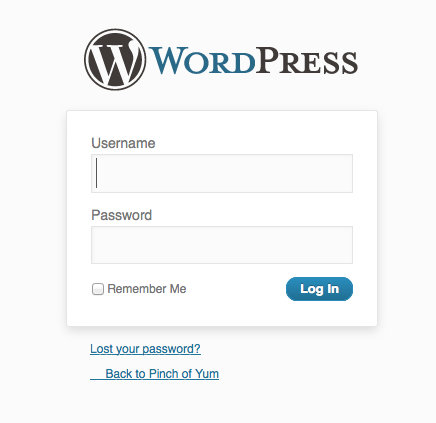 Congrats! You're officially logged into your new blog!
3) MAKING IT PRETTY
At this point, you officially have your own pet blog! Can I get a woof woof! 😉 Hope you're as excited as I was when I just got started!
You're almost there … just minutes away from sharing your funniest dog or cat stories, pictures and videos! (PLEASE SEND ME ALL OF THEM).
Before you get started uploading those posts, here's (in my opinion) the next most important part!
Time to beautify your blog. There are so many great WordPress themes that are free that you can look through and start with.
You can see all the free options here. If you're looking for a premium theme, check out these options:
The Thesis Theme – This is the theme I use on Boston Terrier Secrets. I love it because it's so flexible and customizable.
The Genesis Framework – I know a lot of people love this framework. Also check out the StudioPress Themes.
That's it! Good luck setting up your pet blog! I would love to hear from you once it's up and running, please send me a link once you "go live." And if you have any questions in the meantime, please don't hesitate to send them my way!!
Welcome to the blogospere!
Disclaimer: Please note that some of the links below are affiliate links and I will earn a commission if you purchase through those links. I have used all of the products listed below and recommend them because they are helpful and are companies that I trust.